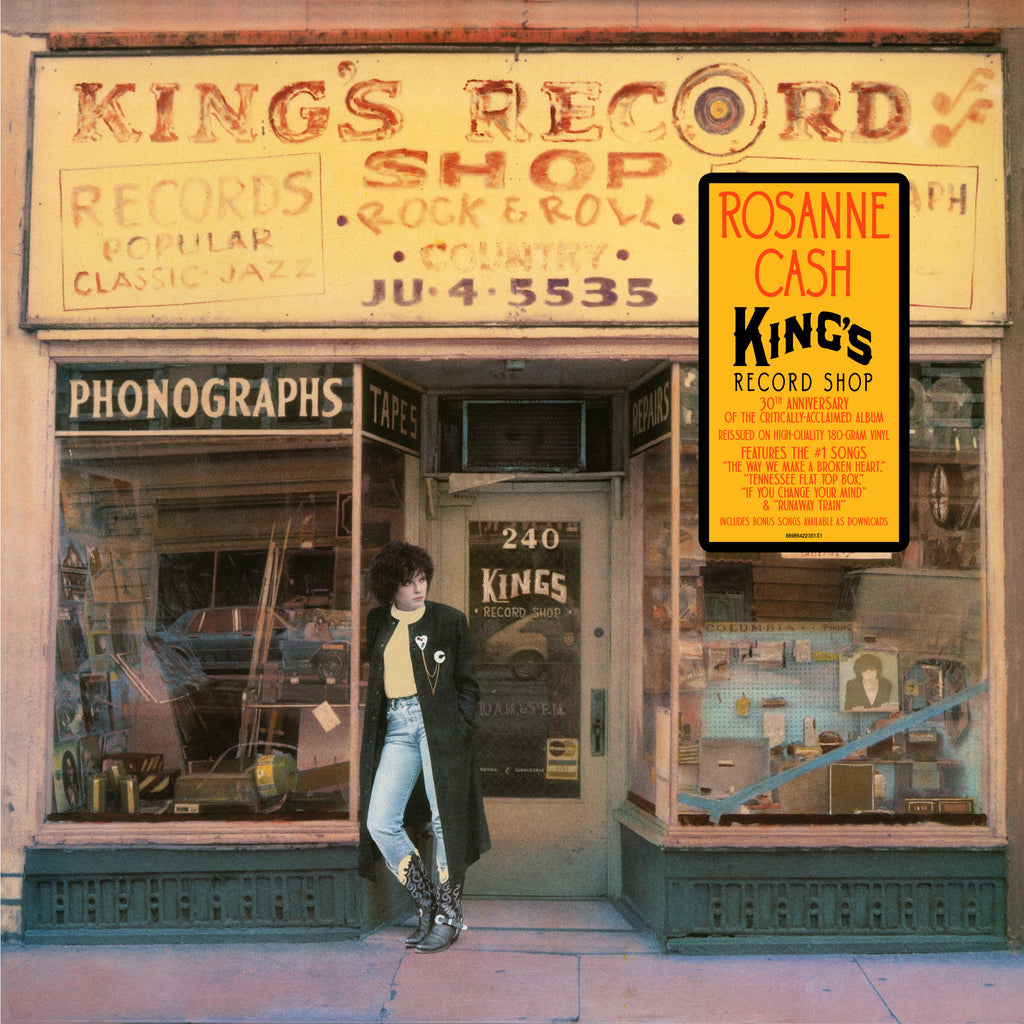 King's Record Shop Signed Vinyl LP
$ 25.00
Legacy Recordings Celebrates 30th Anniversary of Rosanne Cash's King's Record Shop with Release of Special 180gram 12" Vinyl Edition on Friday, July 7
Artist's 1987 Masterpiece Includes Four Billboard #1 Country Singles
Legacy Recordings, the catalog division of Sony Music Entertainment, will celebrate the 30th anniversary of Rosanne Cash's King's Record Shop with commemorative 12" 180gram vinyl (and digital) editions coming Friday, July 7.
Originally released through Columbia Records on June 26, 1987, King's Record Shop proved a pivotal album in the career of Rosanne Cash and in the emergence of Americana as an heir to traditional country music. After working on a series of albums which contained singles introducing a new wave/pop sound to America's country charts, producer Rodney Crowell shifted gears on King's Record Shop to bring a more roots-oriented, contemporary folk approach to the genre.
One of the most critically-acclaimed albums of Cash's discography, King's Record Shop generated four #1 hits on the Billboard Country charts: her covers of Johnny Cash's (her father's) "Tennessee Flat Top Box," John Hiatt's "The Way We Make a Broken Heart," and John Stewart's "Runaway Train" as well as "If You Change Your Mind," a song she'd cowritten with steel guitar player Hank DeVito (who shot the photos used on the iconic front cover of King's Record Shop).
Her sixth studio album, Rosanne Cash's King's Record Shop is named after--and inspired by--a store in Louisville, Kentucky, which was owned by Pee Wee King's younger brother, Gene. Produced by Rodney Crowell (Rosanne's then-husband), King's Record Shop features musical contributions from a stellar band of players including Rodney Crowell, Vince Gill, Patty Smyth, Benmont Tench, Steve Winwood, Randy Scruggs and others. 
In 1988, King's Record Shop took home the Grammy for Best Recording Package (given to Bill Johnson for his album cover design) while Rosanne Cash was nominated in that year's Best Country Vocal Performance, Female category.
"King's Record Shop was a watershed record for me, and, if I may say so, an important moment for women in country music at that time," said Rosanne Cash. "It was the first time a woman country artist had ever had four #1 singles from one album. I was tremendously proud, and deeply honored to work with the musicians who played on the album. Rodney Crowell was the guiding force, and he says he feels 'blessed to have been a member of the team.' I feel the same way: we were a team, and the work we created was captured in a shining moment that still gives pleasure these thirty years later."
Rosanne Cash
King's Record Shop
Rosie Strike Back
The Way We Make A Broken Heart
If You Change Your Mind
Real Me
Somewhere Sometime
Runaway Train
Tennessee Flat Top Box
I Don't Have To Crawl
Green, Yellow And Red
Why Don't You Quit Leaving Me Alone